Hit enter to search or ESC to close
We have been through a scary pandemic and now with life crawling back to the usual, there are calls for stringent safety measures that need to be followed during your shoot with us for your safety as well as ours.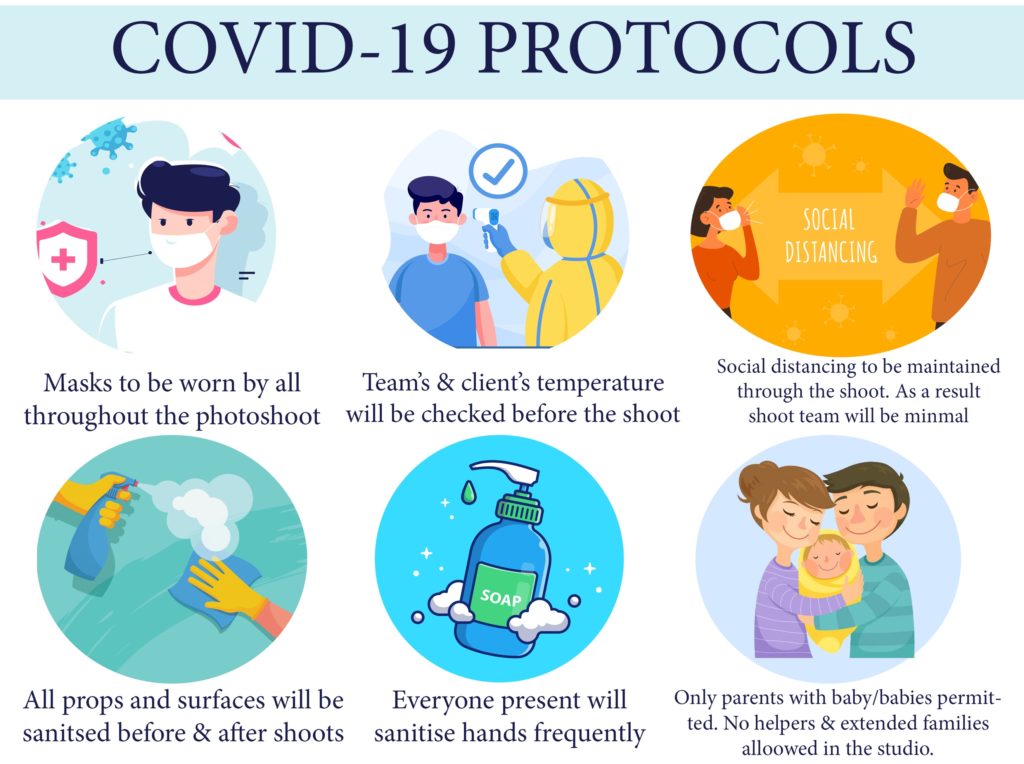 Pre-Shoot Consultation
All discussions prior to the shoot will be done over the phone ONLY. We can make studio pictures and other studio details available through video and photos.
Studio Hygiene
We're taking limited bookings in order to space the shoots out.
All our outfits, costumes & wraps and cleaned and sanitized after the shoots.
Our studio space and props are well-sanitized pre & post shoots.
 Health & Safety 
Temperature checks of our team and you will be mandatory.
We request you to monitor your health too before leaving your home, especially if you have been around an unwell person or belong to the family of a Covid-19 warrior.
Masks have to be worn at all times during the shoot. Masks can be taken off by you only during your session with the baby.
No outside props allowed.
Request you to carry your snacks for the baby and yourself from home as we would like to discourage takeaways in the studio space.
Shoes will not be allowed. If you wish to wear one during your session, please carry a cleaned and sanitised pair that you can wear during your session.
Key pointers for social distancing
Only baby/babies and parents allowed, we will unfortunately not be able to accommodate extended family, helpers, family friends or additional adults.
It is important to maintain distancing during the shoot. On our part, we would prefer to have minimal contact with the child, unless the baby is a newborn or infant that we will need to place on the set up.
We have leaned down the team to a minimal.
We take pride in the fact that we have been professionally trained & certified in newborn photography by the world-renowned newborn photographer Jade Gao of Newborn Photography by Jade.